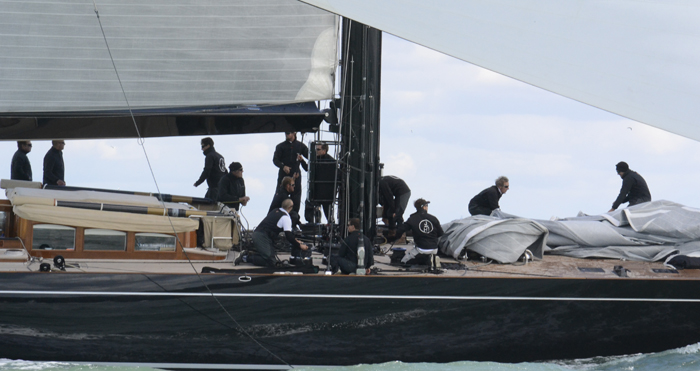 Personnel from composite inspection specialists International NDT have been able to continue to support a number of high-profile projects internationally despite travel restrictions. These include the annual spar and rigging inspection of J-Class racing yacht Lionheart in Palma, Mallorca last month, which forms a part of the sailing team's ongoing preventative maintenance program.
International NDT has been taking a robust and socially responsible approach to travelling between a number of different countries in the past few weeks in order to complete the inspection projects.  The company uses a range of ultrasonic testing methods to look for flaws or damage in spars, primary structures and components of composite yachts or metallic parts.
"Our company has been working diligently to keep abreast of the changing regulations in the face of the continuing Covid-19 pandemic," comments Giles Waterhouse of International NDT. "We have been ensuring that we fully adhere to the requirements for each destination before taking the decision to travel.  We have been incorporating Covid tests, quarantine measures and carefully selected travel methods, whether driving or flying, taking care to protect our technicians as well as our clients' teams."
Since August teams from International NDT, which has bases in Palma Mallorca and Hamble UK, have travelled between The Netherlands, Poland, Antigua, France, Montenegro and Falmouth UK amongst others.
The autumn's projects have ranged through inspections to the superstructure of a 50.3m/165.1ft luxury motor yacht at the build stage, to routine assurance aboard modern classics and damage assessment of a 15m/50ft world cruiser sailing yacht.  International NDT also works in partnership with key suppliers like advanced spar and mast manufacturer Rondal BV where International NDT provides inspection expertise to their quality assurance processes.
"Grand-prix and racing superyachts perform flat out in intense programmes of events around the world," explains Waterhouse.  "We've just completed a pre-purchase inspection of a successful mini-maxi racer for the new owner, since it's vital that they are aware of any maintenance issues before they start racing."  International NDT can detect hidden flaws and damage to key structures and components to provide ongoing assurance and catch issues before they become potentially catastrophic.
While both the UK and Mallorca sites have remained busy with inspections the company is looking forward.  Waterhouse sums up "We are putting measures in place to ensure we can still travel in the New Year 2021.  We stay agile in meeting the requirements of changing Covid and Brexit regulations so we can continue to look after our clients."